Questa has a long-history as thee destination for fishing in the state of New Mexico; back in the 1960's more fishing licenses were sold in Questa than any other part of the state. Today, anglers of every age and ability come to Questa to fish the Rio Grande, Red River, and mountain lakes. The indigenous Rio Grande Cutthroat, found only in this region, is one of five trout commonly hooked in Questa, along with Rainbow, Brook, Cutbow, and Brown Trout.
Take a look: Questa fishing has recently been featured in REI and Trout Unlimited magazines: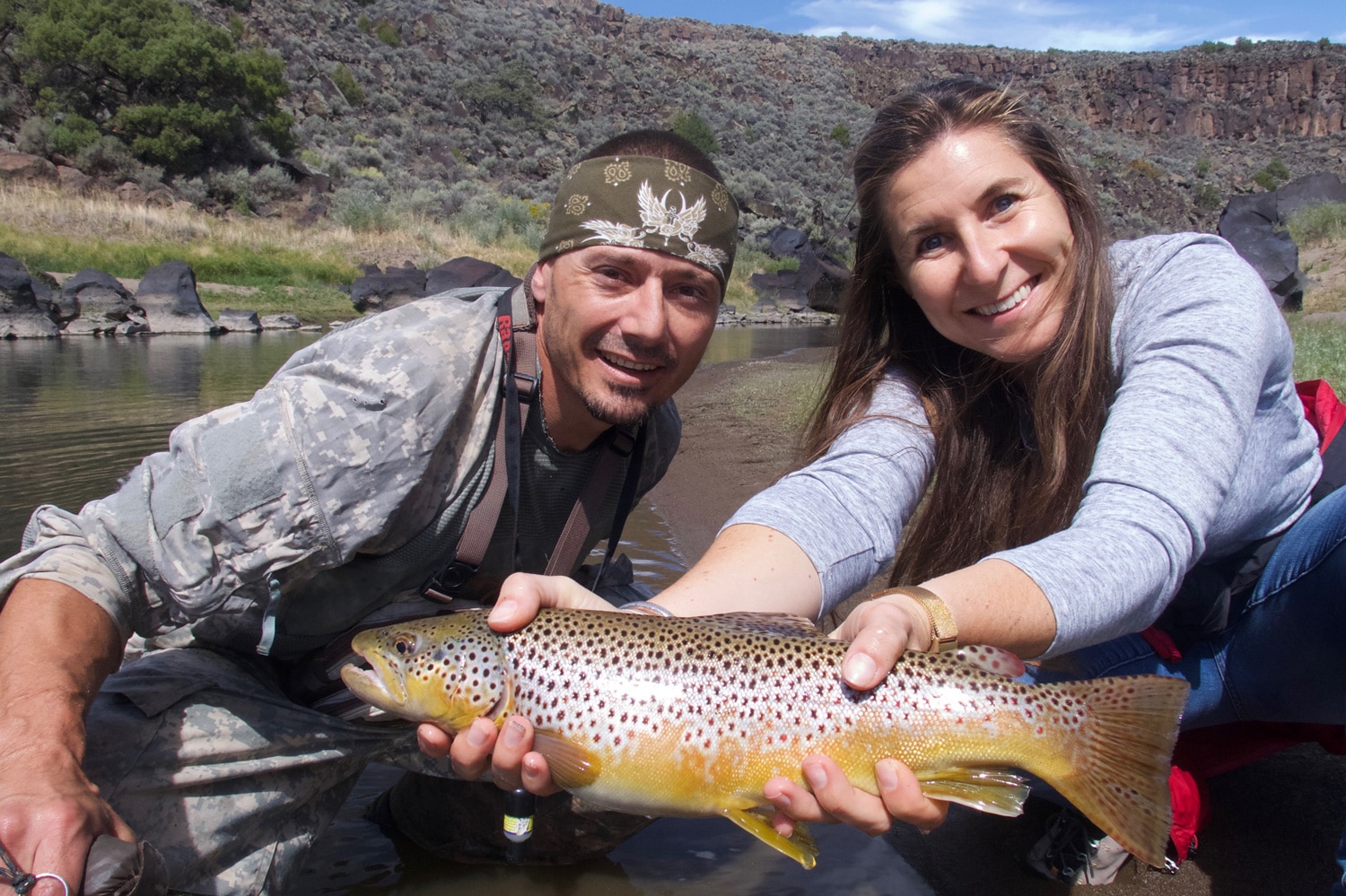 Where to Fish
Carson National Forest Questa Ranger District
Eagle Rock Lake
This family-friendly park is just 5 minutes from the heart of Questa, it's popular for its 3-acre lake stocked with rainbow trout. The Park has plenty of parking, is handicap-accessible, with a vault toilet, and a trail that circles around the Lake, with an off-shoot trail to the Red River, so this is an excellent site for both lake and stream fishing.
Directions to Eagle Rock Lake from the Questa traffic light:
Drive east on NM-38 for 1.5 miles (toward Red River), Eagle Rock Lake is on the right/south side; look for the USFS sign at the entrance. Parking is plentiful.
Columbine Creek – Columbine-Hondo Wilderness Area
Accessed via Columbine Campground (open for day use), the Columbine Trailhead is well marked, and the moderate trail follows Columbine Creek, which is stocked with Rainbow trout. Anglers can drop a line after a short or long hike, and they are rewarded with meadows of wildflowers and numerous creek crossings to choose from.
Directions to Columbine Campground, Trailhead and Creek from the Questa traffic light:
Drive east on NM-38 for 5 miles (toward Red River) looking for the wooden USFS Campground sign marking the entrance on the right/south side.
Cabresto Lake – Latir Wilderness Area
This mountain lake is just a 20-minute drive from Questa, with incredible scenery, and hiking trails that lead into the Latir Peak Wilderness Area. The 15-acre lake sits at 9,150' and offers picnic sites and excellent fishing for several species of trout. There is also a small USFS campground with 9 sites.
Heart Lake – Latir Wilderness Area
From the Cabresto Lake parking area, follow the 4-mile trail up to Heart Lake; it's one of the few places to catch Brook Trout in New Mexico.
Directions to Cabresto Lake and Heart Lake from the Questa traffic light:
Drive east on NM-38 for 50 feet (toward Red River) and immediately turn left onto Cabresto Road behind the Visitor Center (if you miss it, just turn into and drive through the Visitor Center parking lot to reconnect with the road). Drive for 6 miles; along the way Cabresto Road changes names to NM 563 and then again to Forest Access Road 134. Turn left/north onto Forest Access Road 134A and continue on the winding road for 2 miles to the lake. 4WD or a high clearance vehicle is recommended.
Red River Fish Hatchery
Open for fishing and self-guided tours, this state-run fish hatchery is less than 10-minutes from Questa. It is the largest hatchery in New Mexico producing over 1.7 million rainbow trout each year, including catchable 9 – 10-inch fish. It is a great option for fishing with kids and it is educational as well. Open daily 8a-5p for self-guided tours, the fishing ponds area are accessible dawn-dusk.
Red River Box at the Fish Hatchery
The area known as the Red River Box is a half-mile hike-in area between the fish hatchery and the Rio Grande; it is a deep narrow canyon whose features create great holding areas for trout, where the water temperature remains fairly constant year-round. Rainbow Trout predominate, though Browns increase in number as you approach the confluence with the Rio Grande.
Directions to the Red River Fish Hatchery from the Questa traffic light:
Drive south on NM-522 for 5.5 miles (toward Taos), turn right/west onto State Route 515 looking for directional signage on the road; follow the road for 2 miles to the fish hatchery on your right.
Valle Vidal
This pristine area is north of Questa and worth the drive to these extraordinary fishing options including Costilla Creek, Commanche Creek, Shurree Ponds, and more Anglers are reward with Rio Grande Cutthroat, Rainbow and Brown Trout; this area is catch and release only. Valle Vidal is also one of the approved areas where dispersed camping is permitted in the Carson National Forest.
Directions to Valle Vidal from the Questa traffic light:
Drive 20 miles north on NM-522 to the Village of Costilla; turn right/east into Costilla onto NM-196 for 15 miles; the road changes to gravel past the Village of Amalia and becomes Forest Road 150. Turn left/east at the junction with Forest Road 1900 staying onto Forest Road 1950 for 4 miles. If you keep right at this junction you will arrive at the Rio Costilla Park & Campground. To continue on to Valle Vidal, turn right at the next junction with Forest Road 1910, stay on Forest Road 1910 for 4 more miles taking the right fork to Cimarron Campground located in Valle Vidal.
Rio Grande Del Norte National Monument
In the Rio Grande del Norte National Monument there are many options for excellent fishing in the Rio Grande and Red Rivers, and at their confluence. Anglers find Cutthroat, Cutbow, Rainbow, and Brown trout.
Trails to the Rivers
There are many well-maintained trails within the Monument that lead to the river (with a few hike-in campsites on its banks). Some of the hikes, such as Big Arsenic, require a long and steep hike down the well-designed path (which feels longer and steeper on the way back up). Other trails offer shorter climbs, such as the Chiflo Trail, with game trails to follow along the water's edge.
The 22-mile round-trip paved road through the Monument includes a five-mile loop at the end that leads to several campgrounds and trailheads to the river; most offer ample parking, and some have vault toilets. The Wild Rivers Visitor Center is located on the loop offering restrooms, water, books and maps for sale, and a knowledgeable staff of rangers and volunteers.
Red River Box at The Monument
The Monument is also an access point to the Red River Box for more experienced anglers to fish the lower section of the Red River. This is a hike-in area in a deep narrow canyon whose features create great holding areas for trout.
La Junta Point Overlook (ADA accessible) marks the furthest point on the paved road in the Monument with spectacular views into the Gorge of the confluence of the Rio Grande and Red Rivers. From this trailhead, anglers hike into the Red River Box, a deep narrow canyon whose features create great holding areas for trout at the river's confluence with the Rio Grande. The Box is also accessible from the El Aguaje trailhead.
Directions to the RÍo Grande Del Norte National Monument from the Questa traffic light:
Head north on NM-522 for 2.6 miles; look for signage for the Village of Cerro and the National Monument. Turn left/west onto NM-378 into Cerro; drive 3.5 miles through the winding community and just past the last residence a large sign marks the entrance to the Monument. The well paved road through the Wild Rivers section of the Monument is approximately 35 miles round trip.
Local Fishing Guides Who Know These Waters Well
Rio Grande del Norte Outfitters, LLC
Owned and operated by Questa resident, Chris Michael, a local fishing legend.
hcadventurescm@gmail.com
(575) 776-6216
Chris Michael is featured in:
Trout Unlimited Article: Birds of a Feather
Trout Unlimited Article, Fishing Questa with Chris Michael from Rio Grande del Norte Outfitters, May 2020:
REI Article, Reinventing Questa, NM, February 2020:
Ed Adams Fly Fishing
Ed Adams is a local, based in Questa, (575) 586-1512,
Taos Fly Shop
Hall of Fame guide Taylor Streit, son Nick, and staff are area fishing experts, offering guided fishing, classes, equipment, and supplies.
338 Paseo Del Pueblo Sur, Taos, NM 87571, (575) 751-1312
Where To Get Fishing Licenses
Fishing licenses are required for all anglers 12 years old and older.
In town:
Questa Lumber & Hardware (Closed Sunday)
2349 NM 522, Questa, NM 87556
(575) 586-0414
On-line:
NM Game & Wildlife
On-line License Purchase:
(888) 248-6866
Resources
Questa Visitor Center
1 NM-38 (at the traffic light)
Questa, NM 87556
(575) 586-2258
New Mexico Game and Fish
For comprehensive information, including calendars, licenses, permits, maps, and all rules and regulations.
(888) 248-6866
USFS Questa Ranger District Office
184 NM 38, Questa, NM 87556
(575) 586-0520
Red River Fish Hatchery
1 State Route 515, Questa, NM 87556
(575) 586-0222
Wild Rivers Visitor Center in the Rio Grande del Norte National Monument
Managed by the US Bureau of Land Management
NM 378, Questa NM 87556
(575) 586-1150
Links To Local Services